Huang Fang, Deputy Mayor, Visited the Company to Investigate and Encourage Enterprise to Actively Explore the International Market
---
On May 23, 2019, Huang Fang, Deputy Mayor of Zhuzhou City, visited the company to investigate the export situation of the products.
After visiting the production workshop and listening to the report of Xiao Jianping, Chairman of the Board, Huang Fang, Deputy Mayor, fully affirmed the company's production and operation achievements. "The Belt and Road "and" Made in China 2025" policy bring new opportunities for the development of traditional manufacturing industry, she said. TQCC will seize new opportunities, take advantage of the trend, increase innovation and R&D, improve the international competitiveness of products, expand and strengthen the enterprise and actively explore the international market.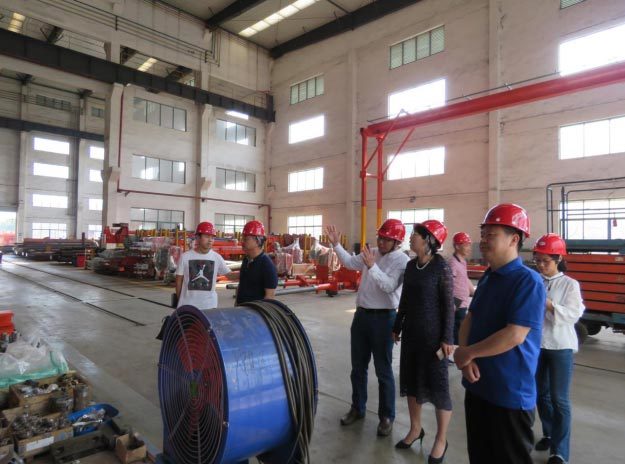 TQCC Attends Changsha International Construction Equipment Exhibition
The tide surges eastward, and friends come from afar. From May 12th to 15th, the third Changsha International Construction Equipment Exhibition was held at the Changsha International Convention and Exhibition Center. The theme of this exhibition is "High end, Intelligent, Green - New Generation Construction Equipment", with approximately 1500 Chinese and foreign enterprises participating. TQCC attended with intelligent and high-tech exhibits.——A Feast of Technology


The key research and development projects undertaken by TQCC passed the acceptance test with high scores
On August 30, Hunan Provincial Science and Technology Department organized experts to carry out on-site acceptance of the key research and development project of "intelligent aluminum electrolysis core equipment and system key technology research and industrialization" undertaken by TQCC and participated by Hunan University of Technology. Hunan Science and Technology Affairs director Qing Jianbo, Hunan University of Technology vice president Long Yonghong, TQCC chairman Long Jiuwen participated in the project acceptance.